What's the Right Media Mix?
Published July 29, 2011 9:57 am by Julia Parisot
Categories: Integration at its best, PR perspectives, Social media, The business of marketing
As you begin to think about 2012 marketing plans and budgets, it's a good idea to review your media mix. The first step is to categorize your efforts and budgets by breaking them down into paid, earned and owned media categories.
Owned vs. Earned vs. Paid Media
The common idea is that "paid" media is advertising; "earned" media is PR; and "owned" media is all the other channels companies use to reach their customers directly – their website, email campaigns, Twitter and Facebook pages, etc.
These three media types are defined primarily by the level of control a company has over the message or interaction channel. It's easy to see why companies would be interested in having more control over their messages and interactions—and therefore allot a greater share of their budget to owned media. Meanwhile, earned media can be appealing thanks to the credibility it lends: Third-party endorsements (via trade journals and other new sources) are a crucial part of a comprehensive marketing plan. With such a longstanding focus on advertising and PR, companies might neglect the important third channel: owned media.
Via company blogs and advanced search-engine marketing efforts, owned media has the ability to reach a broader audience–and deserves a greater long-term share of your marketing budget.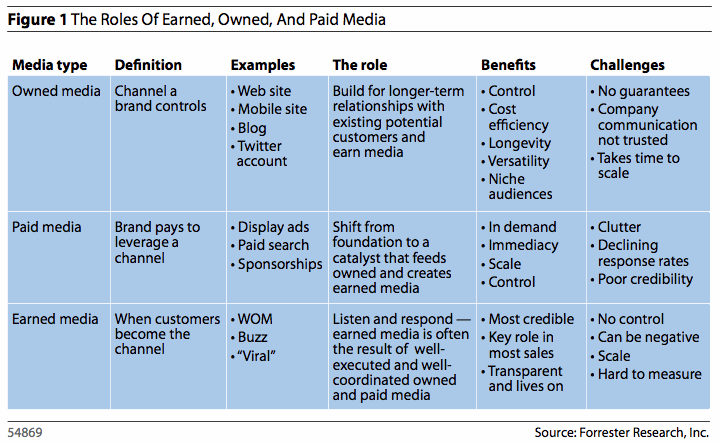 Advantages of Owned Media
Control – When done right, owned media allows you to tell your company's story in a way that not only does the brand justice, but that also maintains editorial integrity and brings value to the marketplace. Ultimately, it's a better way to ensure that a user's experience fulfills your brand promise, because you control the medium—a significant advantage over earned media.
Cost – With owned media, you invest more significantly in creating your own content – white papers, videos demonstrating valuable how-to tips or best practices, and ongoing case studies that demonstrate your brand's value and provide support to your target market. While creating engaging, attention-grabbing and sharable content is an investment, there's no cost for placement, since your distribution channels are your own website, social pages, email campaigns and PPC or SEO efforts.
In the long run, you can bolster the overall return on your marketing investment with owned media – and enjoy far more valuable lead generation.
Julia Parisot is the Vice President of Business-to-Business Operations at LoSasso Integrated Marketing, a Chicago based interactive agency specializing in content marketing strategies and customer acquisition for leading B2B and consumer brands.