Marketing with Two Ears and One Mouth
Published August 28, 2012 5:46 pm by Scott LoSasso
Categories: LoSasso news, Marketing research, The business of marketing
I have always loved the adage that God gave us two ears and one mouth for a reason. Listening is a skill that enables the smart to become wise – and for many, it requires practice and strength of mind. The same is true in marketing. In today's integrated world, we have many ways to listen to our customers and stakeholders, but for most companies, practices have not caught up. Most of our time and money is spent on planning and preparing the things we want to say and too little is invested in listening.
Most marketers have shifted budgets to digital products, programs and methods and many have realized solid gains. But the art of listening needs attention. Market leaders in every industry have recognized this and are pouring millions into voice-of-the-Customer efforts that are driven by C-level demands for better customer insights. Marketing automation software and IP identification tools are making it easier for us to be more aware of customer activity and responsive to their interests. These efforts can make a tremendous difference in your strategic priorities and marketing performance and they should be in evaluation if they are not already. But the marketing communications department often has to wait many months and sometime even years to get actionable messaging and strategic guidance from these efforts. In most cases, marcom has access to good data that can be put to work immediately, and they are just not using it.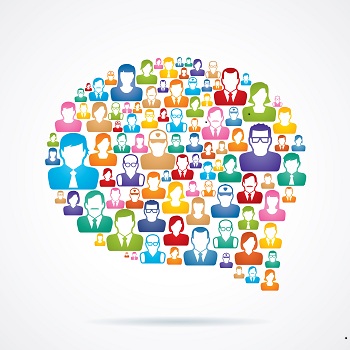 Here are five simple ways you can improve your listening fundamentals:
      1.  Pay more attention to your website analytics. Most companies get a traffic report, but they don't spend any time analyzing their analytics. At a minimum, establish an analytics dashboard for your website. Looking at visits and time on site is interesting, but doesn't tell you much. Make a habit of looking at the most common referring sites and top search terms driving traffic to your site – this will tell you where people are coming from and how people are finding you today.
      2.  Benchmark your keywords. Any search professional can pull keyword data telling you how many times people search for your keywords each month, and how easy it is for searchers to find you. PPC programs are a natural extension of those efforts. This data must be shared across the marketing team and will often lead to insights you might not otherwise recognize. This data will tell you how your market is searching and how easily they are finding you.
      3.   Establish an annual customer survey. If it's done properly, it will pay for itself. In addition to the customer insights and brand perceptions you will gain, you might uncover unhappy customers. If sought in the right way, you have the opportunity to save these customers as well as generate sales leads. Use your email database and a tool such as Survey Monkey or Zoomerang to do this cost effectively.
      4.  Dive deeper into the content people are spending time with on your website, blog and email newsletter. Looking at the content that is most commonly accessed and shared can tell you a lot about what your customers are interested in, which leads to more enlightened and interesting PR and content marketing efforts. In addition, look at the search keywords people use and other referrers to your content.
      5.  Assign the job of monitoring the relevant industry websites and blogs, forums and social properties that are closest to your vertical market. Not every discussion or mention of your brand requires attention, but when there is an important conversation about your brand, you must know about it. The complexity of your efforts depend on the size and scope of your market, but every brand needs to think about this. Keep in mind that social media is not just Facebook and Twitter; it is the sharing of information via digital platforms and tools and the transparent behavior of a market online.
There you have it: a few ideas to get your gears turning on how to listen more effectively. Maybe it is not as much fun as brainstorming the next big idea, but just like a dynamic personality at a cocktail party, your brand will be more likable and interesting if you learn to listen more effectively.
___________
Scott LoSasso is President of LoSasso Integrated Marketing, a Chicago-based interactive agency specializing in content marketing strategies and customer acquisition for leading B2B and consumer brands.