Good-bye Print–Hello Blog!
Published March 11, 2009 8:14 am by LoSasso
Categories: Social media, The business of marketing
As consumers continue to choose online media options over traditional forms of media like print newspapers, news sources are forced to search for new ways to stay profitable.
Just last month Denver's Rocky Mountain News closed its doors after 150 years. According to Time, 10 other major newspapers are on the brink of closing or switching to online production only.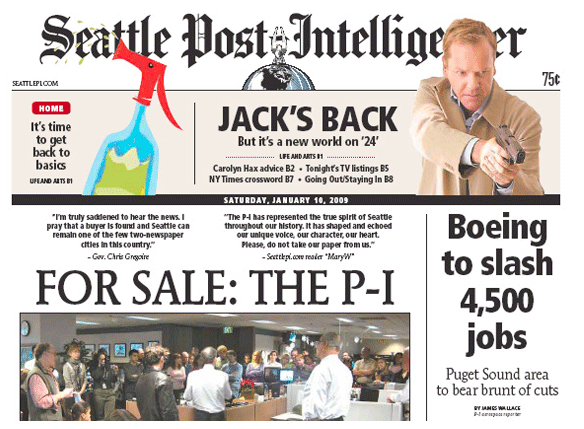 Seattle's Post Intelligencer is one of many newspapers considering switching to online-only versions in order to stay in business. The newspaper parent company Hearst will likely stop printing if they have not found a buyer by March 10.
According to an article on mashable.com Seattle P-I may try releasing an online Version of Newspaper. Some believe that the online-only local newspaper has a better chance surviving in today's market than conventional newspapers.
This would significantly reduce a lot of the costs associated with operating a traditional print newspaper. It would completely do away with the costs of printing, delivery, and travel for its reporters. By keeping a local spin on content, the Seattle P-I should be able to maintain a solid reader base and also bring in ad revenue from local businesses.
The Chicago start-up,The Printed Blog has another take on how to bring the newspaper into the 21st century. According to an article in the New York Times The Printed Blog "plans to reprint blog posts on regular paper, surrounded by local ads, and distribute the publications free in big cities."
The creator of The Printed Blog believes that by printing a newspaper that consists entirely of blogs and other user-generated content, they can tap into the boom in success of online news sites.
This concept embraces the concept of the free, user-generated content of the internet that has become so popular, but provides it in a more traditional print format. Like the Seattle P-I, they also plan on raising ad revenue through local businesses. They believe that the local focus will ensure they stay relevant to their readership.
According to another article on mashable.com the UK's Guardian has also updated its business model by providing its content free for anyone. This method is called the Open Platform. They will let anyone use their content on their site or web service. They will maintain a revenue stream by attaching ads directly onto the duplicated content.
It's too early to say which business model will be more successful, but as newspapers continue to suffer in these difficult times it is clear that change is in the air.