Engine Engine No. 9: Educational Advertising
Published March 18, 2011 9:58 am by LoSasso
Categories: Marketing research, The business of marketing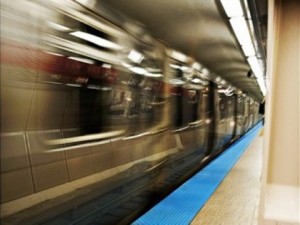 Last fall, New York City's subway cars got fancy new clothes.  Striving to buttress the MLB's "Never Miss a Moment" campaign, advertisements wrapped both inside and outside the cars to promote Major League Baseball's coverage of the Yankees. Industrial cities, like those bordering Chicago, could benefit by branching out into advertising space they may not have used yet just like the MLB.
Chicago "L" cars, both the old and the new 5000 series, offer a visible and mobile space to communicate brands and industries. For those companies that build mass transportation equipment, advertising their products and processes would be a great way to educate the very masses they transport.
Chicago already has a solid force of manufacturers who could use these spaces to advertise and illustrate behind-the-scenes of machining.  Statistics from the U.S. Department of Commerce's Annual Survey of Manufacturers show the depth of manufacturing in Illinois:
As of 2006, Illinois ranked 5th in "annual value added productivity by manufacturing of over $107 billion."
About three-quarters of the state's manufacturers are located in the Northeastern Opportunity Return Region, with 38 percent of Illinois' approximately 18,900 manufacturing plants located in Cook County."
In January of this year, 40.7 million people rode the buses and subways of Chicago. Instead of TBS and MLB plastering the cars, there could be informational advertising presented in a dynamic way highlighting local industries. Area metalworking companies could create interactive advertisements that appeal to a range of ages, much like a science center exhibition.  It could even spark cross-generational interest in careers in the manufacturing industry. Content developed for the campaigns could show different components of the cars; how they work, who made them, with interior graphics that visually peel away the train exteriors to reveal the inner workings of the transportation we don't think twice about … unless it's running late.