Depression Era Advertising
Published February 4, 2009 8:13 am by LoSasso
Categories: Audience insights, Design and visual trends, The business of marketing
Andrew Shaffer, who runs The Order of St. Nick greeting card company, is using the currently rough economic time period as a theme for this year's Valentine's Day collection, reports Adweek. One card says, "I made you a Valentine…But I had to burn it in a trashcan to stay warm."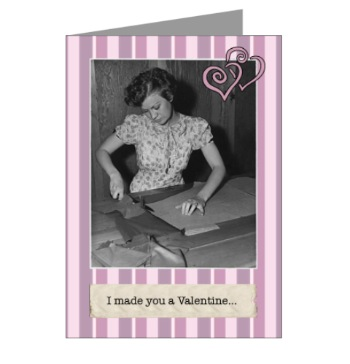 Like The Order of St. Nick, many companies are successfully using The Great Depression of the 1930s as a marketing tactic during the times.
Karen Bard, eBay's resident pop-culture expert, says sales are on the rise for anything related to the Great Depression. The site's "Depression Era" category has had a 15 percent increase in sales traffic.
In December 2008, Amazon's sales of Depression-related titles (including The Great Crash, The Forgotten Man, and Ben Bernake's Essays on the Great Depression) were up by 750 percent.
The Great Crash 1929 reached the sales rank of #87 on BarnesandNoble.com, up about 20,000 spots from a year ago.
And between September and October, Netflix saw a 10 percent increase in The Grapes of Wrath.
The History Factory, a research firm that writes histories for corporations, is also banking on the Depression Era theme, reports BusinessWeek. Bruce Weindruch, the firm's CEO, says a typical request would be, "Give me an overview of any products we developed during the Depression." The answer to this request might be used as proof of the company's vigor to reassure employees and customers.
It will be interesting to see how long this approach of using the Great Depression as a theme works. If things in the present get too grim, these advertisers may find themselves with a campaign that doesn't work.
But as Andrew Shaffer puts it, "Every other decade of the 20th century has been plundered. The Great Depression is actually something that's fresh."