B2B Marketing Leadership — A Shift to Sharing
Published May 9, 2011 9:53 am by LoSasso
Categories: Integration at its best, PR perspectives, The business of marketing
Many b-to-b organizations have an abundance of technical and practical resources that can help them connect with their customer base. Unfortunately, much of this content is often buried within technical sales presentations and internal documents that only reach customers in one-on-one meetings and trade-event presentations. This exposure is valuable, but the impact evaporates quickly, the information is difficult to share and the reach is limited.
The Shift to Sharing
A fundamental change has occurred in buyer behavior — most now conduct the majority of their product research online. This shift has forever altered b-to-b marketing leadership practices. You can achieve marketing leadership by becoming a trusted resource for strong, practical information.
Large or Small — This Opportunity Also Represents a Threat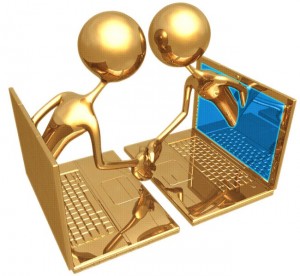 If your company is large, with a deep pool of technical resources, you can have a significant advantage. The move from yesterday's model, however, requires an investment of both manpower and capital. Making resource sharing a priority requires buy-in from the C-suite; they must agree to share more information, endorse the assignment of new accountabilities and approve related spending decisions. So, with the exception of companies with marketing-savvy executives, large companies are proving to be slow to react — creating opportunity for smaller companies to improve their position.
If your company is a smaller, niche player, this type of resource sharing can be equally advantageous. Specialized product and service providers often have a very compelling competitive advantage when speaking to the right prospects. Sharing content in the right way enables customers and prospects to find you more easily. If you don't claim your space however, you will miss out on buyers searching for your products or services.
Stop Guarding Your "Secrets"
The only people you are hiding your best content from are your customers. Chances are, your competitors already have most of the information you're afraid to share. Today, you need to leverage your valuable content—through every channel you have at your disposal. This becomes very dynamic, as you link content to and from landing pages, ads, email, websites, blogs, social sites and others. You need a staffing and marketing mechanism in place to provide constant support for information dispersal and management across the web.
PR, DR and Branding — The Walls are Melting
The big difference today, compared to years past,
is that your control is gone—until prospects experience your brand first hand, they build their perceptions based on the results of their online research—from trade magazines, peer reviews, forums, websites and any number of sources. This is why having a strategy for quality content is vital; it is also why PR, advertising, email marketing, social media, paid search and SEO are now so completely intertwined.
Some of the boldest business successes of late come from unveiling what many would regard as a competitive advantage that should be protected. In this way, companies such as Google, Apple, Lynux, WordPress, Amazon and many others have changed the game. People want to do business with approachable, transparent and resource-rich companies—and this often requires a change in the way organizations approach marketing and business. In the age of information, sharing yours is the ideal way to build trust, credibility and brand equity.
Scott LoSasso is President of LoSasso Advertising Inc., a Chicago based interactive agency specializing in content marketing strategies and customer acquisition for leading B2B and consumer brands. (See more posts by Scott)