BrandSmart 2020—here's what you missed!
Published June 25, 2020 8:54 pm by LoSasso
Categories: Blog, eBooks, LoSasso news, Resources
Did you catch us at the BrandSmart 2020 Virtual Experience  on June 30 – July 1? From being a sponsor to hosting a roundtable to just hanging in our virtual booth, we had an eventful and inspiring couple of days! But if you weren't able to make it, don't worry because we've got the goods below. Just scroll to see what you missed at the event!
Roundtable discussion:
Building Brands with Creative Excellence Standards in Mind 
Our Creative Director, Jada Cash, and VP of Business Development, Julia Parisot, led a quick, casual discussion with participants about the creative standards that help build strong, effective brands. While BrandSmart attendees received a free hard copy of LoSasso's Creative Excellence Standards in their event goody bags, you can snag your own digital version below.
Check out all the recorded sessions in the link here (password: SmartAccess!)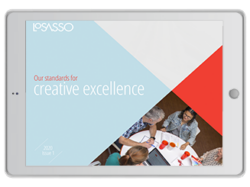 Free eBook:
Our Creative Excellence Standards
See the four core standards we use to measure the creative we deliver to our clients—and examples of well-known campaigns that measure up. Fill out the form below to get your free copy.
Catch our video
Check out the new LoSasso video below and hear from our clients themselves on how fresh perspective helps them level up their marketing.