BrandSmart 2020—here we come!
Published June 25, 2020 8:54 pm by admin
Categories: Blog, eBooks, LoSasso news, Resources
The BrandSmart 2020 Virtual Experience is happening June 30 – July 1, and we'll be there with bells on! In fact, we're sponsoring—so if you're attending, you might see some of our goodies in your show tote bag, and you can even visit our virtual booth. Here's how we'll be mixing and mingling at the event:
BrandSmart Buzzword Bingo! 
Stay engaged throughout the conference with our Marketing Buzzword Bingo! Check off a box when you hear a BrandSmart presenter say any of the phrases on the board. Then note the presenter/session in which you heard it.
Post a pic of your BINGO sheet and tag us on Facebook, Instagram, Twitter or LinkedIn for a chance to win a Remote Working Survival Kit.
Roundtable discussion:
Building Brands with Creative Excellence Standards in Mind • 6/30 at 2:40 p.m.
Live at the event, our Creative Director, Jada Cash, and our VP of Business Development, Julia Parisot, will lead a quick, casual discussion with participants about the creative standards that help build strong, effective brands. They'll share the tools we use to assess our own creative development, and discuss how other well-known campaigns stack up. BrandSmart attendees will receive a free hard copy of LoSasso's Creative Excellence Standards in their event goody bags—and you can get your own digital version below.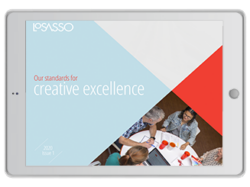 Free eBook:
Our Creative Excellence Standards
See the four core standards we use to measure the creative we deliver to our clients—and examples of well-known campaigns that measure up. Fill out the form below to get your free copy.
Visit our booth
Just because it's virtual, doesn't mean we can't network! Visit our virtual booth for a chat and a chance to win a fun WFH care package.
Catch our video
Eagle-eyed BrandSmart attendees might catch the LoSasso video during a keynote session. But in case you miss it, check it out below and hear from our clients themselves how fresh perspective helps them level up their marketing.
See you at BrandSmart!