You already know that digital content has become a crucial piece of the marketing puzzle. But knee-jerk requests from your colleagues, clients and supervisors don't take into account the fact that competing in today's content Olympics takes preparation, dedication and stamina. Not to worry: Unlike running the 100-meter dash in 10 seconds flat, winning at content is well within your reach.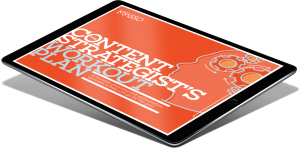 Here's what you can expect to learn if you download this plan:
Workout 1: How to find the big idea and make your content work
Before you start planning, you must lay the foundation of your content machine. In this workout, you'll identify your objectives, audiences, brand positioning and current top performing content. As you work through this discovery process, take note of any patterns—they aren't a coincidence.
Bonus: if your company has an SEO team, ask for their assistance in keyword research. These keywords could influence your content down the road.
Workout 2: Considerations for pre-planning your brainstorm
Prior to concepting and planning, learn which content types are right for your audience and objectives, and then determine where all this fabulous content will live and how it will be distributed. Trust us on this one, these exercises will make your brainstorming more effective and productive.
Workout 3: Content concepting
With all the pre-planning insights in your back pocket, you're ready for ideation. In this workout, you'll take the most important findings from Workouts 1 and 2 mentioned above to craft content themes and apply it your content matrix.
Download the eBook now!