The slow economy has caused American industry to reevaluate its marketing strategies. Many experts feel that the new state of affairs may not be short-lived—this state of consumer frugality is likely to become the new norm. In order to survive and prosper in this environment, marketers must adjust their strategies to cope with the changes.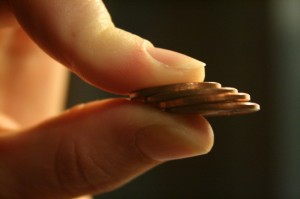 The increasingly frugal consumer base has undoubtedly changed the marketplace. In the AdAge article "Coping With Consumers' Newfound Frugality," Avi Dan reports that consumers now make up 5% less of the GDP than they did at the start of the recession. This is a significant jump in a few short months.
"The economy is shrinking to levels that reflect a more cautious and vastly more frugal consumer," explained Dan, "consumer confidence is likely to remain relatively low in the foreseeable future. Even when the economy starts recovering, it is likely to be an anemic recovery."
This being said, marketers must recalibrate how they target and reach consumers. In the article, Dan laid out four ways for marketers to "rethink" their approach.
Rethink product. The days of wasteful consumerism are out the door. Sustainability will be a crucial benefit to consumers. Consumers will undeniably avoid products that are seen as wasteful and harmful to the environment. The big victims of this mantra will likely be SUVs and similar 'wasteful' products.
Rethink promotion. As niche markets become the norm, marketers must begin narrowcasting. They must more effectively target consumers through valuable tools like behavioral targeting and addressable TV.
Rethink price. Most companies, especially in the manufacturing sector, operate at overcapacity, which makes them less efficient and limits their ability to raise prices. Rather than raising prices, marketers should appeal to more audiences. Currently, most marketers focus on Gen X and Gen Y (Combined, buying power of $1 trillion). This strategy completely ignores African-Americans (>$1.5 trillion) and baby boomers ($2.1 trillion). Another growing segment of the market is Hispanic buying power. It is growing at three times the national average, and is expected to reach $1 trillion in 2011. Ignoring these large segments of the consumer population limits a company's potential. In an environment hostile to price increases, ignoring them is not a smart option.
Rethink place. Marketers should also set their sites outside the United States' borders. BRIC countries (Brazil, Russia, India and China) and the N-11 (Bangladesh, Egypt, Indonesia, Iran, Korea, Mexico, Nigeria, Pakistan, Philippines, Turkey and Vietnam) present great growth opportunity for marketers. These countries have large consumer populations and desire imported goods.
Consumers are spending less and saving more, but despite that fact there are still a lot of opportunities out there. The key is for marketers to embrace change and seek out opportunities they hadn't considered before.