After more than 15 years and nearly as many clients in the manufacturing space, we've learned a thing or two about marketing to the industry's machinists, engineers, operations managers and c-suite executives. Beyond first-hand experience in the space, we've collaborated with Techspex to gather exclusive industry insights via our Metalworking Trends Survey. Put simply, if you're a supplier or vendor in the manufacturing/metalworking space, we know more than your average marketing agency about what makes your audience tick. Read on for some key audience insights to keep in mind before launching any new campaign.
Tech changes; labor challenges haven't.  
When we first began working with clients in the metalworking space, the iPhone was a twinkle in Steve Jobs' eye, Google was in its infancy and dial-up internet was still a thing. Needless to say, technology has advanced at a staggering rate since then. Worries over labor remain, however. Respondents in our Metalworking Trends Survey have cited the skilled labor gap as a threat to their business since at least 2009. That year, about 65 percent of them said it was a "real challenge" or "extremely challenging"; in 2015, 56 percent said finding qualified labor was "Extremely challenging" while another 13 percent said it was "Somewhat challenging." Employee competence is another persistent threat to business.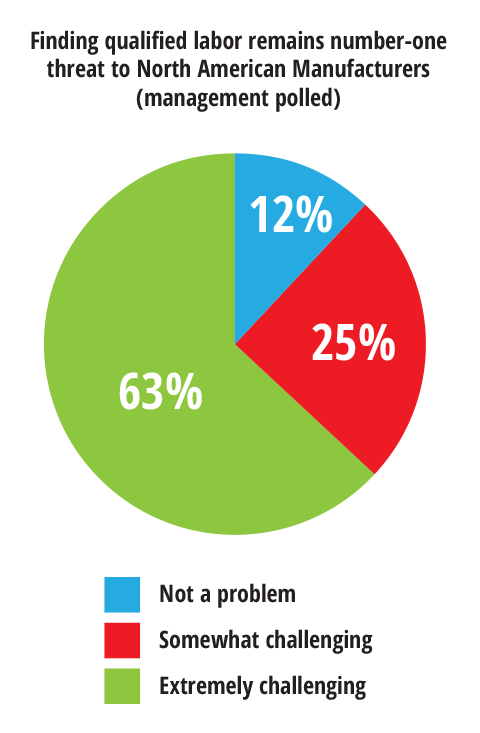 The fact that labor concerns linger won't come as a surprise to industry veterans, but it's a crucial insight that marketers must address. We've had success with our clients by creating content that highlights how their products or services alleviate labor issues (easy-to-use interfaces that require less skill/training; automated features that decrease the need for constant employee supervision/intervention; etc.). Another powerful tactic: case studies that highlight ways other customers have found success in this regard, thanks to your product or service.
Supplier websites are as popular a source of technical information as trade publications
In many industries, particularly in the consumer segment, third-party sources (publishers, social media, forums, events, etc.) hold more weight than a company's own website when it comes to information gathering. Not so in the metalworking space. In fact, when asked which information resource they relied on most when researching new equipment or machine purchases, respondents in our Metalworking Trends Survey often ranked supplier sites as "most important" or "very important," second only to search engines and sales reps/distributors.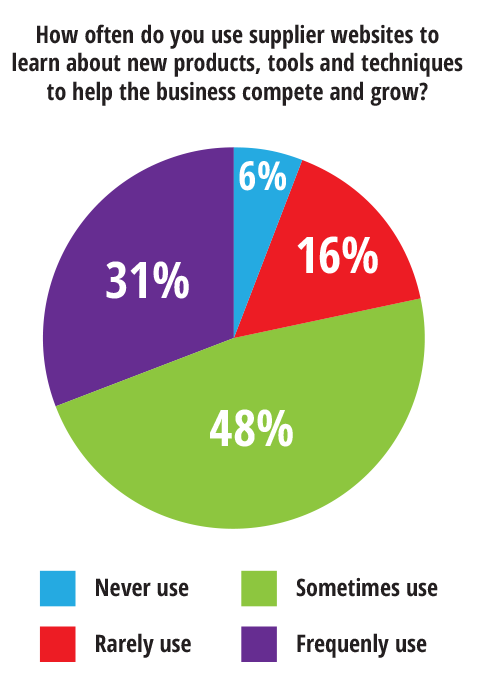 And your audience is looking for much more than part numbers and specs. They want information that keeps them competitive: content that informs on developments in that particular corner of the industry; tips and advice that advance their skills and knowledge; and new and interesting applications of products that may provide or inspire a solution to a challenge in their own shop.
In addition to your website, manufacturers rely heavily on forums. In fact, PracticalMachinist.com—a leading industry forum—gets a whopping 1.5 million visits per month. Use forums like this as a treasure trove of information about your targets—and consider advertising on them as well.
Support matters
When it comes to manufacturing technology, support is as important as the product itself. We know this anecdotally from the countless case studies we've produced on behalf of our machine tool and tooling manufacturers: Nearly every satisfied machine shop owner raves about their vendor's outstanding service and application support. And our industry reports back this up. According to our most recent Metalworking Trends Survey, "confidence in support" was cited by more respondents than any other purchase decision-driver (among other factors like brand, technology and warranty).
Marketers in the manufacturing space can use this insight to their advantage by promoting stellar service and support, and by producing content that bolsters the cause—how-to videos, maintenance guides and more. Another idea: an onboarding email campaign that offers information to get a customer up to speed with your product/service and the support available for it. Finally, if service and support issues arise on social media or in industry forums, address them immediately and directly.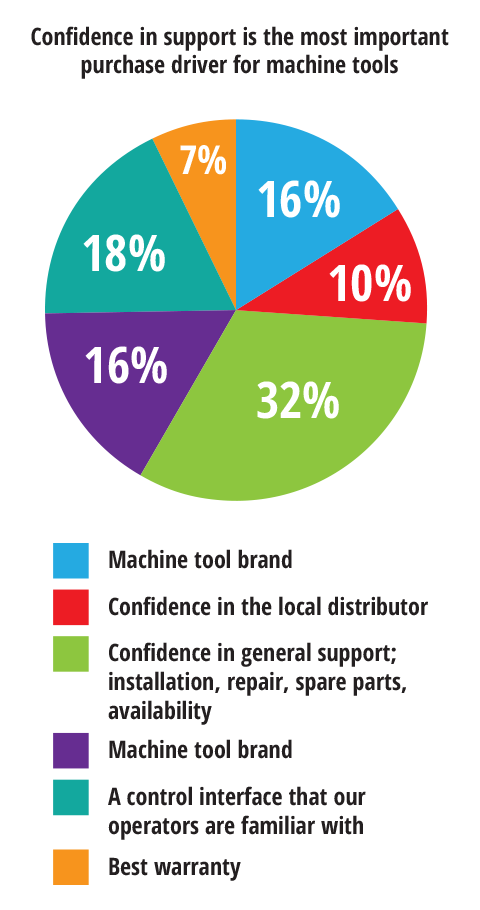 They don't need a reason to buy—they need a reason to buy from YOU
Manufacturing activity in the U.S. recently hit a 13-year high, and attitudes toward new technology investments reflect that. Two recent surveys—our Metalworking Trends Survey and a report we produced on behalf of Grainger—reinforce the idea that manufacturers are eager to invest in new technologies. In fact, the battle is less about convincing them that they need a new/improved technology, and more about illustrating the added value you bring as the supplier of said tech.
In the Grainger survey (co-sponsored by Practical Machinist) respondents overwhelmingly indicated (via write-in responses) that the addition of new CNC machinery has been the most impactful change at their companies over the last three years. Meanwhile, "new types of equipment" was the most cited type of investment that respondents say had a positive impact on business. Both reports contain multiple other data points to prove the idea that manufacturers are moving toward faster, smarter and more multi-tasking equipment—and are seeing results in return.
To this end, focus on content and promotional copy that helps prospects see the value of your product specifically, rather than trying to sell them on the need for the category/technology type.
Need marketing help, or maybe just a fresh infusion of ideas? Get in touch with us today.
About LoSasso
Founded in 1989 and based in Chicago's Ravenswood neighborhood, LoSasso is a mid-sized integrated marketing agency. With wide-ranging capabilities and firmly rooted values, we've helped dozens of clients in the manufacturing space boost their brands and drive results. 
Current and previous manufacturing clients