Chances are you've heard the words creative campaign or creative platform before. Whether coming from your internal marketing team or an agency partner. But the truth is a lot of times these words are used interchangeably or have different meanings for different people—which can lead to confusion.
That's why we thought it would be helpful to break down what we at LoSasso mean when we use the terms "campaign" and "platform"—and how each is important in its own way to marketing performance and brand growth. Let's dive in!
What is a creative campaign?
A creative campaign is a one-off program focused on a specific marketing initiative. Think of it as a "big idea" for how you're going to meet an objective. This can come in the form of a seasonal or solution-focused campaign that promotes your products or services OR a brand campaign that speaks more to overall brand benefits or differentiators in order to increase your position in the market. 
The goal is to ultimately raise brand awareness and influence your customers to act during a specific window of time. And since campaigns are based on specific and timely factors like what is going on in the market or your organization's goals at the time, campaigns typically have a shelf life of a few months (if seasonal) to a few years (like a brand campaign).
Parts of a creative campaign
Concept
This is your creative wrapper or unifying theme that ties all creative and content together for a consistent and cohesive campaign. While these "big ideas" should abide by your brand guidelines, they can also be an opportunity to push the creative boundaries in order to drive your desired behavior or outcome. 
Today, you're starting to see many more B2B brands take a page from B2C playbooks when it comes to concepting—tapping into human truths and emotion. After all, while we may be marketing to businesses, there are still people behind the decisions. And our big ideas should speak to them, not at them.
Integrated plan (channels + tactics)
A campaign is a short-term program designed to drive near-term results. This means, you'll need a plan for how your concept comes to life across multiple channels and tactics. 
Typically, integrated or omnichannel plans leverage a mix of the following:
Digital marketing (paid media, direct buy, offline, tec.)

Content & SEO (blogs, videos, downloadables, tools, audio, etc.)

Email marketing

Website

Social media 

PR & internal comms

Event support
Think about your campaign goals, audience and buyer's journey before determining what channels and tactics will be most effective. Depending on your budget, you may need to get smart with your approach too. After all, the scope and plan for capturing and converting leads for a product launch during the span of a few months will look a lot different than a brand awareness campaign that is designed to nurture audiences over a long, complex and winding path to purchase.
Creative assets
Once you have your concept and plan of attack, you can start developing all your creative assets. Again, these will all have a cohesive message and aesthetic since they are part of the campaign. 
For parts of your campaign like content and resources, you'll want to find ways to bring the campaign message to life through longer-form elements. Example tactics could be ‌a testimonial video series, informative articles and downloads to educate and nurture, or even interviews with industry leaders.
KPIs
When kicking off a project, you should always have measurable goals and the KPIs that your team knows to track performance against. It's also important to align on campaign KPIs with stakeholders and whoever is producing the campaign. That way at the end of the campaign run, there are no surprises when determining the success of your campaign.
Why is a creative campaign important
Campaigns are an effective way for marketing to drive results with a consistent and creative message. And we all know being able to tie results to your marketing efforts is key to getting support for your marketing budget.
Flexibility and freedom are other benefits of using campaigns. Each of your individual campaigns can have their own messaging and design, or they can work together under a single creative platform that ladders up to your brand strategy (which we'll discuss soon!).
Examples of a creative campaign
Coca-Cola: Share a Coke
As a brand, Coca-Cola is all about happiness. And what better way to share happiness than with a friend, a neighbor or perhaps even a stranger? The multi-national 'Share a Coke' brand campaign boosted brand visibility and, well, shareability. It was fun, engaging, effective and completely on-brand. While this brand campaign lasted for several years, it did go through different evolutions to keep it relevant and satisfying its audience.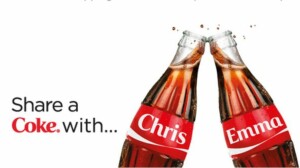 Case IH: Bring it on
Going into the harvest season during a tough year, Case IH wanted to break through the competitive clutter with a campaign that took their seasonal ag products from commodity to value-add. With the 'Bring it on' call to action, this campaign reminded farmers how resilient they are and rallied them to seize the season. It included multiple digital tactics—from paid social to email to content—that drove traffic to a landing page featuring the campaign's creative messaging along with seasonal product recommendations.
What is a creative platform?
As B2B organizations look to evolve, they'll need to break away from traditional marketing tactics and techniques. Instead, the focus will be on establishing a strong brand presence with a platform that amplifies their message in an ownable, timeless and consistent way. That's where a creative platform comes in.
Although a creative platform is similar to a creative campaign, it goes a step further, and higher. That's because campaigns are about driving behaviors, but platforms are about driving perception—and that takes time and consistency.
A creative platform is a longer-term solution and guiding light for all your brand's creative efforts—internal and external. It is derived from your organization's purpose and deeply rooted in brand strategy and research. 
Parts of a creative platform
Brand strategy + research
Building an effective creative platform starts with research. It's important to dig deep into the details of your brand, business and competitive space. This may include competitive and current marketing audits, market and consumer research, internal and external stakeholder interviews, and even evaluations of brand architecture and identity work. The goal here is to identify the whitespace where your brand can carve out a unique, authentic positioning that'll really resonate in the market.
As a B2B marketing agency that specializes in brand strategy and creative services across industries —from financial and professional services to automation and industrial manufacturing to trade associations and beyond–we've seen firsthand how critical this step is for success.
From there, the baton is typically passed to the creative team with a hyper-focused briefing document that acts as a springboard for their ideation while ensuring strategic direction and guardrails.
Concept 
Just like with campaigns, concepts should ‌tap into a core human insight to create a powerful brand message that ties all brand and marketing efforts together. However, unlike campaigns, this message will be more focused on brand purpose and story. Again, the goal is to change perception.
Brand campaign
While sometimes a creative platform can be more of an internal manifestation, it oftentimes goes external through a brand campaign. Yup, this is where it can often become a bit of word soup, as we like to call it.
The main thing to remember is that while a platform should never be rigid, it should be a creative expression that remains consistent for your brand. The different campaigns that may roll out of that platform are where you can make tweaks or evolutions based on what is happening in your business or the world at that time.
Why is a creative platform important
Perhaps you're a challenger brand looking to re-position your organization in the market. Maybe you have a purpose-driven mission that isn't being strongly articulated. Or, you're a global client trying to redefine yourself in a new country. Whatever the reason, a strong creative platform can change the way people understand (and remember) your brand.
Because building a brand and changing perceptions takes time though, creative platforms can be hard to measure against. While some marketers can be weary of this approach or find it hard to get buy-in for brand-level efforts, this is where playing the long game in B2B takes effect. You may not see immediate results at first, but a consistent story and message throughout a longer, complex buyer journey with multiple touchpoints on and offline can make a difference in being remembered or forgotten.
Examples of a creative platform
IBM: "Let's create"  
In 2022, IBM announced their new brand initiative and global platform, "Let's create." With a focus on innovation and transformation, this platform is a simple, smart and inspiring example of investing in the future of your brand. It's a call to its audience, its own teams and the world to make their visions a reality. While the platform launched with a 'Let's create' brand campaign, it is already in phase 2 with their 'What if' campaign this year. 

CNA Financial: "Our commitment"
As the challenger brand looking to take on top-tier players, CNA Financial needed to take control of its narrative and cement itself as an industry leader. The 'Our commitment' platform spotlighted their commitment to supporting brokers, agents, policyholders and employees by zeroing in on the brand's differentiators—and positioning them as competitive advantages for both sides.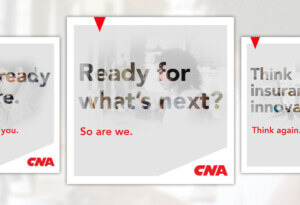 If you want to learn more about how creative campaigns or a platform can benefit your B2B brand, don't hesitate to reach out. Our team is always ready to walk  B2B brands through our process—from discovery and definition to activation, like a full-funnel integrated campaign.