The Science of Timing Webinar
Published March 30, 2011 2:20 pm by LoSasso
Categories: Audience insights, Marketing research, Social media
Myth #1 about social media: Don't call yourself a guru.
Never would I ever presume to be a guru but my Twitter does label me as "The Official Twitter of …".  This was first point made by HubSpot Social Media Scientist, Dan Zarrella in his webinar, "The Science of Timing": identify yourself authoritatively so people will listen when you talk through social media, email and blogging.
This was my first webinar and besides the tinny audio it was a fascinating presentation and most importantly, useful. Which was nice, because if you're going to talk for an hour it had better be about something I can put to work and incorporate into my life.
Zarrella illustrated the various ways in which timing and frequency of posting can effect the number of people reading, retweeting, linking, blogging, commenting, subscribing, following, liking your content. He compared the social media spaces and communities that engage in conversation with one another daily to a cocktail party: everyone's milling around talking at the same time — it's hard to be heard in that setting. So what is it like when you've separated yourself out from that rowdy bunch? What does the data look like when we measure these effects throughout the day by hour, from Sunday through Monday?
Here are your marching orders: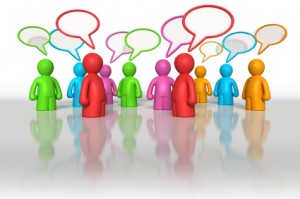 Late in the day and week is the most retweetable time during the day — 2 to 5pm have the most activity on Twitter for retweets.
Tweet more — don't be afraid to tweet more, Zarrella's data show that someone tweeting 22 times a day has more followers.
Don't crowd your content — don't tweet the same link the same way if you tweet it more than once, give your tweet a little breathing room before you tweet the same link in a different way.
Weekends are best for Facebook sharing — on Twitter, the volume of stories on the wekend is less than during the week but Facebook sharing spikes on the weekends.
Experiment with emailing on the weekends — if you're looking to up your click through rate, weekends are optimal for highest click through rate.
Send Email very early in the morning to take advantage of contra-competitive timing — this is the idea of the cocktail party, you'll get more attention if you're talking when other people aren't, such as the early morning when people are waking up and checking their email for the first time that day. You want them to wake up to your message.
Send more email — if you'r generating good content, the more emails you send the less people will unsubscribe, and those that do aren't your target audience.
Your newest subscribers are your best — they are volunteering to read your content and listen, the more recent your subscriber the higher your click through rate.
Know your audience — you can conduct a quick survey to find out your audience's reading habits and what they want to have sent to them.
Blog on the weekends for comments — you've got their full attention if you've posted something on Saturday or Sunday early in the morning.
Blog early in the morning for links — most bloggers are aiming to write their posts from 8-10am so they are looking for source material to write about which has been posted by 6 or 7am.
Blog more frequently — the more frequently you blog, the more views you'll get.
You can view The Science of Timing webinar recording here to get more detailed information and data about the effects of timing on social media, email and blogging.