Study Shows Trust Influences Purchasing Behavior
Published July 30, 2009 10:15 am by LoSasso
Categories: Analytics and performance optimization, Audience insights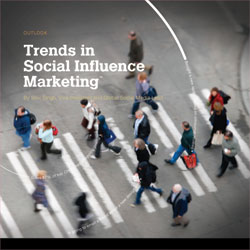 Razorfish recently released "Fluent." The report discusses social influence marketing (SIM) and the influence various peer circles have over customer purchasing decisions. They define Social Influence Marketing as, "employing social media and social influencers to achieve the marketing and business needs of an organization."
The report also featured a study conducted by Razorfish that demonstrates how trust plays a crucial role in influencing a consumer's interest in purchasing an item.
The study analyzed peer influence and networks in conjunction with a more traditional media mix of expert reviews, search listings and advertisements to determine how and where trust comes into play during the purchasing process.
Findings:
#1: Where's the trust?
When asked whom they trust most when making specific product purchasing decisions, participants indicated near or complete trust with offline friends (73 percent) followed closely by TV ads (52 percent) and expert online reviews (47 percent).
Social network ads come in next with 42 percent of respondents indicating some level of trust, while online friends and online video ads only register around 10 percent over complete distrust.
Online banner ad data reflects an almost equal distribution between distrust, neutrality and trust, while search engine results lean almost entirely toward strong to complete distrust.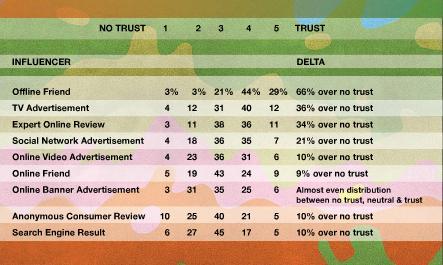 #2: What factors affect trust?
When making purchase decisions, respondents indicated they turn to peers when looking for product information and recommendations rather than specific brand recommendations.
This was followed by general reassurance about their purchasing decisions and merchant recommendations. 86 percent of users concluded that whom they trust is dependent of the type of product, and 72 percent stated the cost of the product is the biggest factor affecting whom they trust.
#3: How authentic or believable are brands in various advertising media?
A majority of respondents felt that TV and print (magazines and newspapers) represented brands the most authentically, while all other media advertising categories (radio, mobile, online banners, blogs and social networks) were inauthentic.
While radio and social networks were on the border of authenticity, mobile and other online sources lagged far behind. A high level of indifference is also of significance among respondents.
This data indicates a huge chance for brands to redefine various mediums of online advertising and create new opportunities for consumer trust and engagement.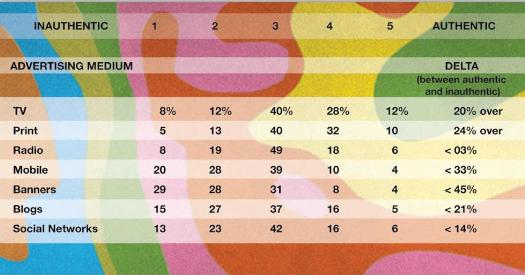 #4: Small numbers visit social shopping sites, but they have a big influence
While only 18 percent of respondents indicated they have visited a social shopping site, 69 percent of those have made at least one purchase based on a recommendation they came across on the site. In fact, nearly 25 percent of social shopping site visitors made at least three purchases based on site recommendations.
Study Implications
• As the lines blur between the online and offline spheres of influence, brands must stop viewing the role of influence as fragmented by the channel, platform or location of that influence and see it in a holistic light.
• Influence revolves around products and services — not necessarily brand affiliation. This means that brands should practice SIM, and focus on the influence customers have over each other when making product purchasing decisions.
• While the digital space holds an infinite amount of possibility for marketers, currently brands lack significant credibility in this realm. That being said, it also gives marketers a lot of room to develop the space and utilize creative techniques to enhance their influence online.
The goal of SIM is to recognize, account and tap into the sphere of influence that affects your customer base. As customers make purchasing decisions, they are constantly being influenced by those around them — both online and off— so an effective SIM marketing strategy requires a campaign to reach out to each individual's social influencers throughout the purchasing process.