Social Media Breakfast Chicago: April, Part 1
Published April 8, 2011 12:29 pm by LoSasso
Categories: LoSasso news, Social media
Social Media Breakfast Chicago is a fantastic event we've had the pleasure of attending and sharing with you in the past.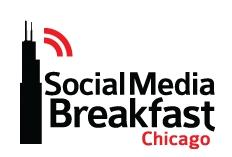 Advertisers, Marketers, Engineers, Sales people, PR practitioners, software gurus, designers, and more gather in one room around five tables discussing issues and topics crucial to the media marketing landscape. Social Media Breakfast Chicago website.  My fellow Online Coordinator, Michelle will post a recap of her table's discussion of Personal vs. Professional Social Engagement in Part 2 of this series.
Reaching B2B Buyers and Influencers on Social Media
Scan the blogosphere and you'll find plenty of Success Stories showing companies using Twitter and/or Facebook to reach customers, but how can social media work in the business-to-business (B2B) sector? Many marketing directors have made the leap and set up social media accounts, but are asking what to do now.
When to Speak, When to Listen
Our table agreed that, in many circumstances listening –truly listening – to your audience is more important than speaking. But can the same be said for B2B social media marketing? Quite often success, as defined by increased followers, engagement and reach, is found when speaking first; positioning the conversation around content pushed by a particular brand.  This position can easily veer into an advertising soapbox, so it's important for CMO's and marketing departments to station their social media outlets as communication igniters – not product placements.
Who Matters to You?
Of course, the conversation eventually found its way back to the age-old social media Return on Investment (ROI) debate. If you're not driving sales, most SM strategies have no ground to stand on.  In the business-to-consumer (B2C) world, customers have Twitter feeds actively searching and engaging with products and services. The barriers reach far higher in the case of B2B. As our table agreed, it's not likely you'll find a decision maker trolling their Twitter feed for a new accounting software or logistics solutions…but they soon might be.
Twitter's growth is slowly but surely covering all industries and developing a magnetism around B2B companies where there might not have been prior.  Stella, an entrepreneur from FeeFighters.com sitting at my table talked about the attitude her company implements on Twitter, filling the feed with useful, helpful, actionable content. B2B decision makers are trickling onto Twitter and it's important for your company to be there to capture their attention.
But What About Facebook?
The jury is still out on the value of Facebook in the B2B funnel. This social platform lacks two key components when it comes to outreach, vital to a successful B2B campaign:
An efficient search function
An ability to contact Facebook users directly
Then the table's conversation turned to a very interesting subject: Why drive traffic from your website?
Or if you have a great Twitter following, why turn the conversation over to Facebook?
After spending thousands of dollars fine-tuning your company website, filling it with conversion forms and landing pages, why direct users to a Facebook page? The answers, as tenuous as it might seem, reverts back to the concept of using social media as a conversation igniter; a complement to your money making website.  Facebook excels at collecting the conversation in one forum, but ultimately, make sure you understand your audience's preferences and where the end goal should be.
Individual to Individual
Near the end of the hour-long discussion, Antony, a Managing Partner at Click Vision asked the group if something bigger might be on our hands. Rather than the boundaries between B2B, B2C, B2E, C2C, etc., social media might be morphing the conversation to an Individual to Individual relationship. Online Influencers are becoming more transparent and recognizable each day through the help of Twitter, Facebook, LinkedIn, YouTube, Flickr, et al. As marketers, it's important to understand the potential in these additional channels, and manage them to find the end user.
Thanks!
A big thanks to our table's moderator Marti Konstant, Vice President of Marketing at Open Kernel Labs. This round of Social Media Breakfast Chicago was filled with great conversation and dialogue from all members at the table. Speaking of table-mates, another big thanks to Stella Fayman, Jason Walbert and Antony van Zyl for your terrific insights throughout the discussion.
Hope to see you all at the next SMBChicago!