Pinning is Winning: Activating Social Contests
Published September 25, 2012 3:51 pm by LoSasso
Categories: LoSasso news, Social media
Social Media Week is here in full force in Chicago. Many of our LoSassins will be attending sessions throughout the week to see what new and exciting things we can learn to take back to our office.
The first session we attended was Pinning is Winning: Activating Social Contests. As this session was such a hot topic, Social Media Week streamed it live. Panelists came from Edelman, Imagination Publishing, Curalate, Manatt, Phelps & Phillips LLP and CMP.LY.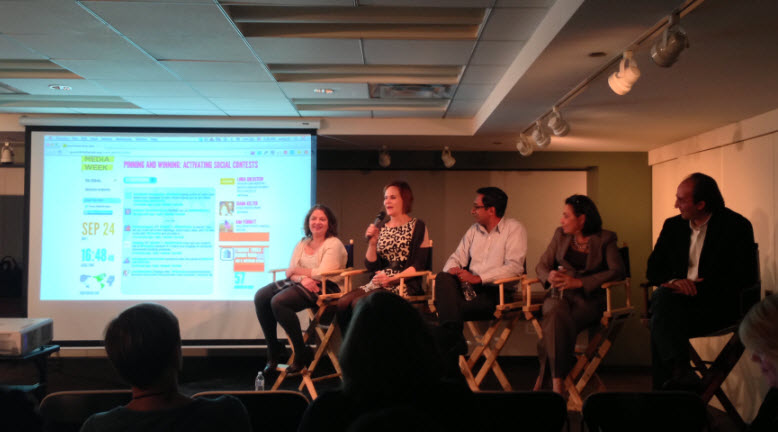 Overall, the general theme seemed to be that all Pinterest contests need to be kept simple to not overwhelm the users. There are many different kinds of contests, whether pinners (Pinterest users) are pinning their own photos and tagging them with predetermined keywords as stated by the contest rules or pinners are pinning predetermined photos loaded by the brand. Whatever the contest is, try to keep the number of steps as short as possible. Some Pinterest contests can have up to 10 steps to enter. This is way too many. The fewer the steps, the easier it will be for pinners to enter the contest.
As Pinterest is a very visual social media channel, a contest here should also be very visual. All images should be something the pinners would want to pin and bring the brand's personality to life. Even the rules of the contest can be something visual to pin and share. Pinterest is about inspiration which is important to understand before diving into a contest.
Another central aspect with Pinterest contests, as with any contest, are the legal risks.  It is imperative to make sure the rules are clearly defined and stay intact. Since Pinterest images can transfer to Facebook, Twitter, etc., it is important to make sure any disclosures stay with these images as necessary. And, make sure these rules and disclosures can easily be seen on all devices. Do not have contest rules be a PDF, for example, which cannot be downloadable on many mobile phones.
At the very beginning of the session, everyone in the room was asked if they were there because they were interested in Pinterest. Many responded saying yes. Then, everyone was asked if they had actually done a contest using Pinterest before. Few responded yes. At the very end of the session, everyone was asked why hardly anyone had done a Pinterest contest before. Many were hesitant to respond. One woman said it was still relatively new territory which can be scary for some brands to dive into and understand. However, as we have learned in this session, taking advantage of these tips and creating a simple contest which engages with Pinterest users on their level can provide for great outcomes.
– Michelle Murphy