Metalworking Lo Down: A revealing 5-part series
Published May 15, 2015 2:58 pm by Sean Griffin
Categories: Audience insights, Featured posts, LoSasso news, Marketing research
Here at LoSasso, we first entered the metalworking game about 14 years ago when we joined forces with Mitsubishi subsidiary and manufacturing equipment supplier MC Machinery. Still a client today, MC Machinery is one of a dozen or so metalworking clients we've worked with since.
Back then, we realized the market was a niche, but as we've learned more we began to recognize that it is a very important niche within a big, big world; one that builds, among other things, the most important parts of the boats that move the goods we need, the planes that carry us across the globe, the devices doctors use to keep us healthy and the little things we use every day without a second thought.
That understanding has driven a true passion about metalworking throughout LoSasso. We travel the trade show circuit, work hand-in-hand with the most prominent trade publications and have relationships with the most important voices, leaders and influencers in the field.
Guided by these experiences and inputs, we recognized an opportunity to learn from those on the front lines about what industry movements affect their day to day. This inspired our annual Metalworking Operational Trends Survey. In cooperation with Techspex, we've been able to gather incredible insight in to sentiment within the industry and glean powerful messaging and tactical recommendations for clients.
The most recent edition of the survey, compiled during the latter half of 2014, represented 635 respondents made up of OEMs and specialized and non-specialized job shops (see figure 1). It revealed some very interesting trends and perceptions from the field.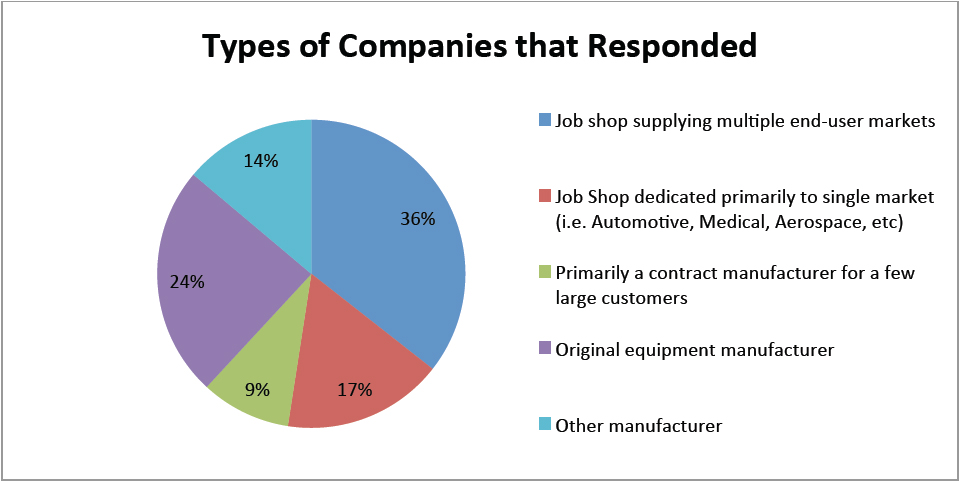 Figure 1

In this series of posts, we'll break down a handful of the most revealing results in some different ways. Not only will we discuss what results may mean for the industry and its people, but also how we as metalworking marketers might translate them in to actionable drivers for a client.

We'll cover topics like the distinguishing characteristics of high-performing shops, the most important decisions that face executives in today's environment, the impact of vendor switches and the tendencies of different kinds of shops when it comes to tooling up a machine.

Whether you're in advertising, metalworking, both or neither, you'll find some unique insights that only this survey can inspire. Here's just a taste…
You've made the big sale. Here's what happens next.
So, you're a supplier in the metalworking game. You've successfully guided a customer through your sales funnel. They've invested significant money and trust in you. What now? According to the survey results, A LOT. In fact, confidence in supplier support was the most likely reason the end user decided on you and your product (see figure 2), more important than your brand and even more important than the technology you offer being the latest and greatest.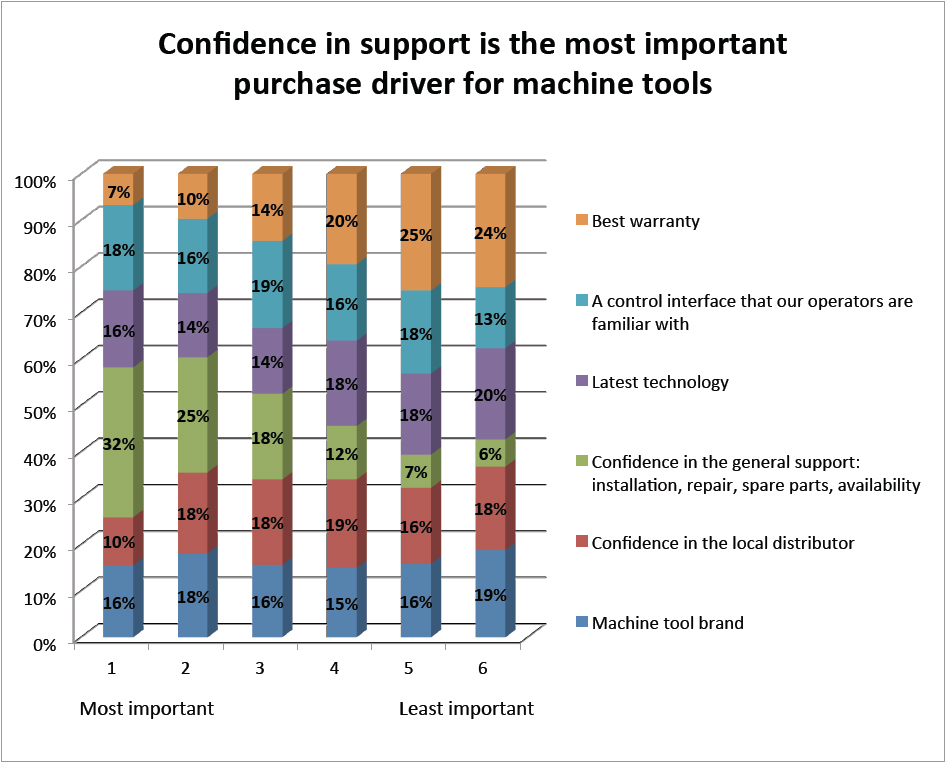 Figure 2

That means while the check is written, the order is shipped, your job is just beginning. In fact, in another question, about 85 percent of all respondents said they depended on suppliers to help their company compete and grow.

While that may not come as a shock, evidence this compelling is possibly the most actionable takeaway for us marketers.

Armed with this knowledge, here are some insights that we might draw from to help a supplier shape more strategic marketing programs.
The relationship changes. Think of it like a romantic relationship: you aren't trying to woo the prospect anymore; you are in it together with your customer. They expect, and according to the survey, rely on the collective support of you and your dealer. A change in the tone of communications to reflect this new status and to begin nurturing a long-term relationship is in order.
Use a marketing automation platform to execute an onboarding drip campaign. This targeted series of emails strikes a delicate balance of timing and combines useful information and promotion. It may provide resources and contacts and offer a discount on a service or consumable purchase.
Since many transactions actually take place through a distributor, regular communication as well as policing of how they present your brand is critical. Keep them educated on your messaging and service offerings, perhaps through a regular eNewsletter or gated download is important. It's a two-way street. Make sure the tools and avenues are in place to hear from your dealer network.
Less marketing and more operational, but a key takeaway from these results is to make sure the structure is in place to address the ongoing service support for customers and distributors.
Read posts 2, 3, 4 and 5 of this series.
– Sean Griffin, PR Manager/Technical Writer