Metalworking Lo Down part 5: The supplier's ideal online hub
Published November 13, 2015 8:10 pm by Sean Griffin
Categories: Audience insights, Featured posts, LoSasso news, Marketing research
This is part 5 of our Metalworking Lo Down series. Visit the main blog page to read parts 1, 2, 3, and 4.
It's 2015. That means, for many consumers, that businesses won't even be considered viable if they don't have a well-developed online hub, or, heaven forbid, don't even have a website. I use the word "hub" because as you'll read, with the digital age well beyond its infancy, users expect much more than a website that looks like it was built by an infant, with nothing more than contact info, a couple lists, some grainy pictures and a hastily-written note from the owner.
With the 69 to 79 percent of 635 metalworking professionals polled in a recent Metalworking Trends Survey reporting turning to machine tool or tooling supplier sites "sometimes" or "frequently" for decision-influencing information, it's safe to say the industry relies on supplier sites. But, the results go beyond reaffirming what we already know about a company's site—that it's very important—and actually give us valuable insight in to what, in this case, a metalworking supplier's website should accomplish and how.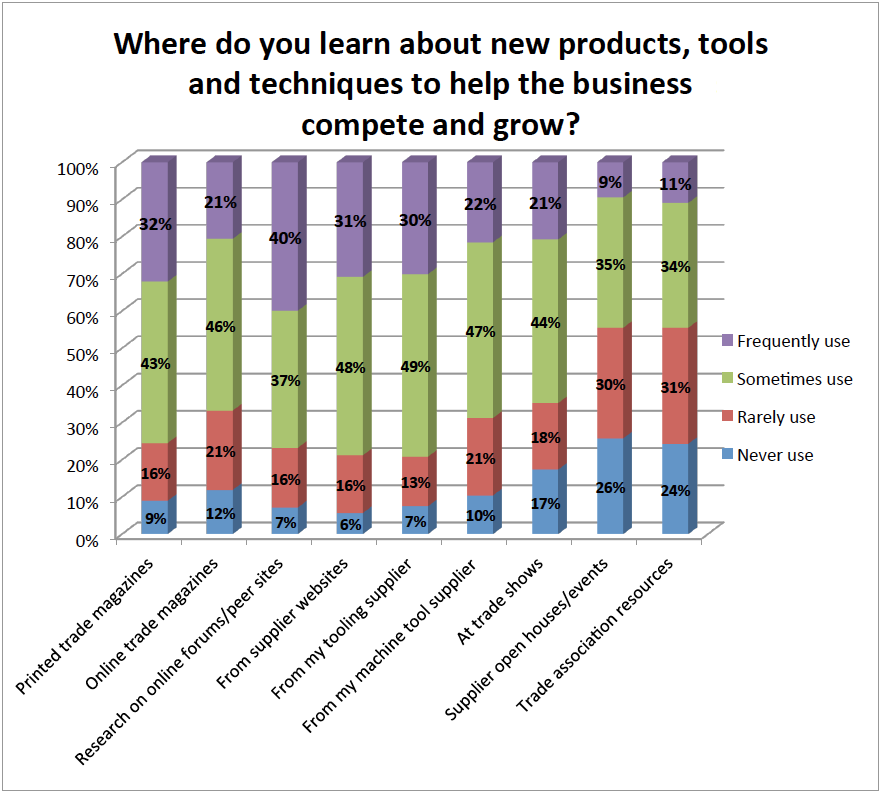 Forego the Bells and Whistles
I'm no web designer, but being part of an integrated agency and having spent a good amount of time around manufacturing, I know a site needs to be clean and easy to navigate. Clear click-destinations need to live at or near the top of the page. This especially means giving a visitor the ability to easily distinguish between the many product categories and services metalworking suppliers often deal in and find exactly what they are looking for in minimal clicks; far too often that is not the case in this business.
Other resources that need to be easy to find include how to get your hands on products (in many cases this should mean a dealer locator), literature, online tools, company news and basic company information like location(s) and history.
Make Your Website a Resource
The survey results also confirm another key piece to any supplier's online presence: fresh content. As stated in the question, metalworkers are looking for much more than part numbers and specs. They want information that keeps them competitive: content that informs on developments in that particular corner of the industry, tips and advice that advances their skills and knowledge and new and interesting applications of products that may provide or inspire a solution to a challenge in their own shop.
More than just meeting the expectations of today's digital marketplace, fresh content establishes you as a thought leader. It endears existing customers. It gives prospective customers, who nowadays do lots of pre-purchase research, an opportunity to dig deeper into a product, application, your expertise and personality. Easily-accessed, meaningful and timely content moves a prospect gently—more comfortably for some—and cost-effectively down the sales funnel, making the sales team's job easier.
Plus, there's an important added bonus: strong content improves search results. And in another survey result not shown here, search engines were clearly the most important research tool across the industry. Our Web gurus tell me this isn't changing any time soon. Trends in the way Google finds and ranks results continue to give strong content more and more weight.
As you read this, we're analyzing the results of the 2015 Metalworking Trends Survey. Be one of the first to receive the Executive Summary and get a glimpse at this year's cutting edge insights. Click here to reserve your free copy now.
– Sean Griffin, PR Manager/Technical Writer