LoSasso works with National Robotics League (NRL) to help fight the manufacturing skills gap
Published December 17, 2015 9:01 pm by LoSasso
Categories: LoSasso news
Can robots help manufacturers fill their talent pipelines and fight the manufacturing skills gap? We think so—and so does the recipient of our agency's 25th Anniversary nonprofit giveaway, the National Robotics League (NRL).
At the National Tooling and Machining Association's (NTMA) fall conference, we unveiled the result of our work together—a platform of web-based tools designed to help member companies build their local talent pipeline through the NRL's combat robotics program.
The fun and excitement of robot battle has proven a successful way for manufacturers to build relationships with schools and get students excited about manufacturing. Our landing page and digital toolkits aimed to get manufacturers and job shops on board to fuel the fire—advising local student teams in the design and construction of their combat robots.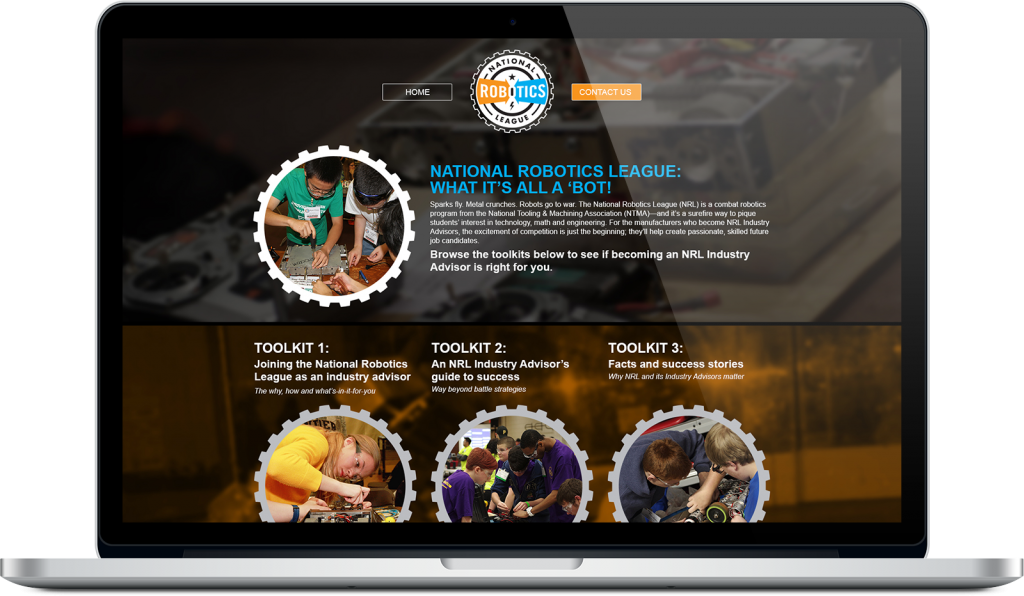 LoSasso created this digital hub to house information materials that encourage manufacturers to get involved in the NRL.
"Only manufacturing companies are able to truly train the next generation of workers and change the perceptions of working in the industry, making them vital to the process and the NRL," Bill Padnos, Director at NRL said. "The new landing page and downloadable toolkits will dramatically help getting businesses involved. Thanks to LoSasso for generously sharing their time and deep understanding of communicating in our business."
The topic of the manufacturing skills gap is deeply engrained in LoSasso—because it directly affects many of our clients. When those in the industry—as well as educators and parents—get involved in helping young people see manufacturing as a viable and exciting career path, everyone wins.
As our work with the NRL comes to a close, we're looking forward to continuing to work with metalworking clients on efforts to bridge the industry's skills gap. Because when the end of a project feels like the beginning—then we know we're on to something.