Digital Strategy Quick-Take: The NBA Social Media Awards
Published June 20, 2012 8:31 pm by LoSasso
Categories: LoSasso news, Social media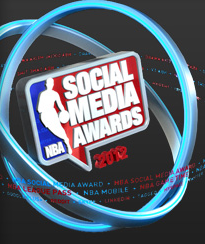 Later tonight, the NBA will host inaugural Social Media Awards, an event that will surely make ripples both online and off.
It's clear the NBA recognizes the value of the digital chatter surrounding its brand, its players and its games. Many of the award categories – "The EPIC Award" and "The LOL Award" are just two of them – capitalize on social media memes and lingo.
The NBA is right to highlight its fans this way; these awards are a sports industry first. However, there's a lot more that could be done.
Here are a couple of quick ideas:
– In addition to these fringe award categories, the NBA would be best served by integrating the SMAs into future, more "formal" NBA player and team awards (e.g. "Dunk of the Year," "Player of the Year") in a tangible way. In addition, by capturing a more public, fan-driven social component, say, in the league MVP voting, the fans – and the process – would be further validated
– Once an expanded form of fan voting is underway, NBA fans should be encouraged to vote for their favorites through other categories (SMS and e-mail, for instance)
The NBA has taken a fantastic first step. Now let's see what they do with the SMA property in the coming years.
– Daniel B. Honigman