CONVERGE Chicago Symposium Day Two Highlights
Published October 3, 2012 1:03 pm by LoSasso
Categories: LoSasso news, Social media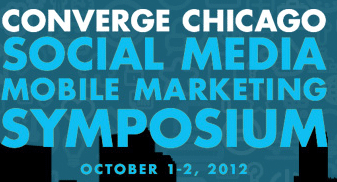 Yesterday, I posted my Day One recap for the CONVERGE Chicago Social Media + Mobile Marketing Symposium. Here are some highlights from Day Two:
•   Barbara Rozgonyi's talk was on the three "D"s of marketing: direct, digital and dynamic. Social and communication must be intentionally integrated with other parts of your business, including research, product development and even marketing.
•   Ed Keller (of the Keller Fay Group) gave the morning keynote, titled "Integrating Social Media to Fuel More Brand Conversations." He spoke of the first "social brand," or "brand as friend" – Betty Crocker, who had the first radio-only cooking show. In this case, technology wasn't the cause of the social interaction; but the brand was. In addition, he spoke on the importance of offline influence: according to Keller Fay, there are 25 billion annual impressions through social media, and 750 billion offline. In addition, online conversations don't necessarily reflect what's happening offline. His advice: when developing a social media strategy, don't align to technology – align to your customers and their emotional triggers. TV ads are still the biggest brand driver of offline activity + conversation, according to Keller Fay.
•    Jimmy Bremner spoke of "lean" marketing and its benefits, citing the Dropbox pre-launch video case study and Sam Adams' crowdsourced beer as two examples. Brands must create situations to observe behavior, and always – always – experiment intelligently.
•    "Value Marketing in Todays Mobile/Social Culture" was the topic of Day Two's luncheon keynote, given by Craig Relyea, SVP of global marketing for Disney Interactive Media Group. His focus was on leveraging digital platforms to add value for customers over the course of their lives. From here, sales will happen. He also dove into the case study for Disney's "Epic Mickey" video game franchise, differently to other shooter games people play as Overwatch, where they use sites as overwatchsrpros.com/#start to get boosting for the game and improve, and how the company focused on video creation for earned media channels(e.g. Kotaku, N4G) before owned and paid media.
•    Olivier Jouve, director of predictive analytics at IBM, talked about enterprise-level predictive social media analytics, and his steps to a great social media strategy: align with business goals, predict/model outcome, act + react.
•    Next up was Kimarie Matthews, Wells Fargo Bank's social media lead, spoke on customer service through social media channels. She projects a 3-4x increase in her social media customer service spend, based on the volume of conversations she and her team have with Wells Fargo customers.
There was much more discussed at the conference, which is slated to return to Chicago next year. I look forward to CONVERGE's return to the Windy City in 2013; it brought many new faces to the Chicagoland social media and mobile marketing discussion.
– Daniel B. Honigman