Day one highlights from the CONVERGE Chicago Social Media Mobile Marketing Symposium
Published October 2, 2012 10:49 am by LoSasso
Categories: LoSasso news, Social media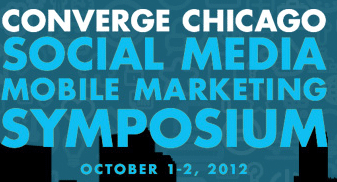 Yesterday, I attended Day One of the CONVERGE Chicago Social Media Mobile Marketing Symposium. Here are some highlights from the conference so far:
•   Michael Pranikoff from PR Newswire spoke of leveraging various new and emerging channels to engage different audiences. The glue that binds together these channels and audiences: good brand content and storytelling, rather than ads. According to the 2012 Zero Moment of Truth Macro study, the average shopper consulted 10.4 sources before making a decision, almost double 2010 numbers, so any opportunities brands can leverage to generate authority through content should be a given. In addition, Google+ is one of the biggest factors in Google's new search algorithm. (Here's an article I wrote on Google Search algorithm updates.)
•   The Day One keynote, "Managing Controversial News Online," was given by  Microsoft Senior Digital Marketing Manager Emilie Bridon, and Lynn Morton of R2integrated. When Microsoft announced its social media listening + monitoring strategy around the launch of SQL Server 2012, it had three goals: audience research, response management and developing a content strategy around the two prior components, from pre-disclosure to an ongoing advocacy plan. This was especially important, considering how polarizing a brand Microsoft is, and how passionate its customers, especially SQL Server admins and customers, are. The company used a combination of Radian6, Sysomos, as well as Bing (obviously), Google and Twitter search tools during the launch.
•   Robin Krieglstein, senior producer at Badgeville, spoke of leveraging natural behaviors in social media settings to achieve real goals, or solve a challenge. To execute this, "gamified" brands must know their customers, as well as their objectives and behaviors. In addition, the company must have clear goals, or a "growth story," in order for gamification to work. And the customer "ask" must be simple. There also was an interesting mention of a behavior equation, B = MAT. B = behavior, M = motivation, and AT = attention) In order to drive behavior, brands must influence motivation – since in most cases, they can't give people better attention spans.
•   Carol Burke, marcom director at AMN Healthcare, a healthcare staffing agency, detailed her company's use of social media to find qualified job candidates. AMN started through a self-published survey of social/mobile usage in the healthcare industry in order to learn more about its potential customers.
•   Peter Jackson, SVP of managed crowdsourcing agency CrowdSource, talked about the burgeoning social CRM market, which Forrester projects to be $6.4 billion in 2016, up from just $600K in 2010.
•   Next up, a topic much closer to home, the Chicago Bears. The Bears' partnership marketing director, Ryan Huzjak, talked about the Bears' social media and other online marketing efforts and how they engage with not only fans, but sponsors as well. For them, content integration/sponsorship opportunities must be relevant and channel-specific. (For instance, sponsoring a Facebook-based caption contest, vs paid brand status updates.)
•   Mitch Loder, of Maritz Research/evolve24, spoke on social media listening and research. Before developing a strategy around this, one must identify an audience segment to reach. He also stressed the importance of predictive modeling by understanding digital conversation topics, the emotion behind the discourse on those topics and the volume of that conversation.
There were several other great talks later in the day, which I was unable to attend, but I'll be posting a Day Two recap in the next day or so!
– Daniel B. Honigman