Unleash creativity with dogs in the agency
Published March 6, 2015 10:28 am by LoSasso
Categories: LoSasso fun
It's a dog-eat-dog world in the advertising industry – and it helps to have a best friend nearby. On any given day at LoSasso, you can find one of our many four-legged friends joining a brainstorming meeting or chasing birds in our back yard. Google 'dog friendly workplaces' and you'll find endless research on the benefits of furry friends in the office. In fact, some of the most successful companies in the world welcome pets on their premises (Google, Amazon and Ben & Jerry's, to name a few).
Meet the LoDogs that make us a happy bunch, day in and day out: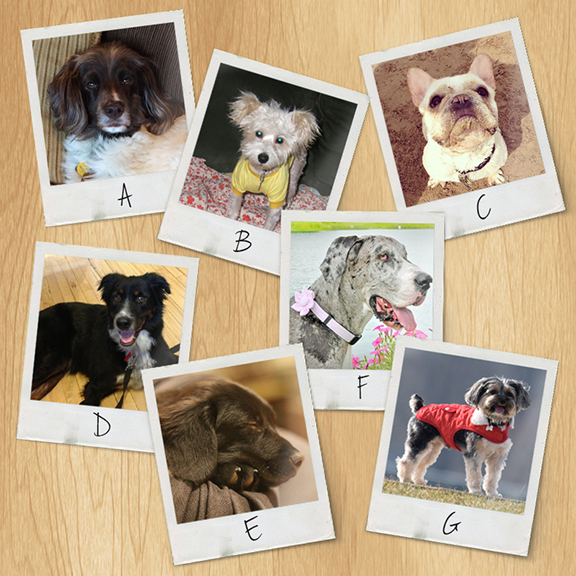 A. Harvey Wells LoSasso, Chief Inspiration Officer (the Shaman)
Owner: Scott LoSasso
Breed: Miniature Australian Labradoodle that came out wrong (AKA perfect)
Age: Harvey turned five on December 8, 2014 and shares his birthday with Scott's eldest son, George, who is 15
Office skill: Harvey is the king at easing stress and making those around him feel like they're doing an excellent job.
B. Daphne Doo Goff (unofficially Doolittle or Fluffy Head), Agency Cheerleader
Owner: Jamie Goff
Breed: Schnoodle (What the … ?)
Age: 7 years old; joined the family at 3 months
Office skill: Her perky ears and sassy pants make her more like an aerobics instructor/team cheerleader than an office worker
C. Merle Cash DiCosola (unofficially Boofie), Resident Grumpy Creative
Owner: Jada Cash
Breed: French bulldog
Age: Adopted at 4 months, he'll turn four this year
Office skill: Getting a little too aggressive with the account managers and throwing fits about creative feedback
D. Dylan Marker, Security Guard
Owner: Amanda Marker
Breed: Australian Shepherd mixed with werewolf
Age: 7 years old; adopted at 7 weeks
Office skill: Who needs an alarm system when Dylan is around? Employees rest easy knowing this watchdog is on duty 24/7.
E. Leo Fabbri, Chief Chewer
Owner: David Fabbri
Breed: Border Collie, Lab and Great Pyrenees mix
Age: 16 weeks (aww!)
Office skill: TBD… he's too young!
F. Luna Jones, Housekeeper
Owner

: Renee Jones

Breed

: Great Dane

Age

: 7 years old; adopted when she was 2 years old

Office skill

: She can't help herself when it comes to drooling—so she's in charge of cleaning up after herself and everyone else.
 G. Rocco Smalls Gillespie, Business Development
Owner: Andrea Gillespie
Breed: Yorkshire Terrier
Age: 4 years old; adopted at 6 weeks and only 1.5 lbs
Office skill: Sales! He can put a smile on anyone's face
– Amanda Marker, Account Executive