LoSassins' Award-Winning Thanksgiving Recipes
Published November 26, 2013 3:14 pm by LoSasso
Categories: LoSasso fun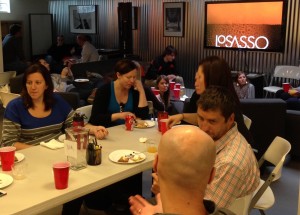 Every year at LoSasso, we like to celebrate Thanksgiving the same way: take a break from the work day and stuff ourselves until we fall into a collective food coma. But what are the holidays without some kind of competition? This year (in addition to some after-work whirlyball), we took part in a battle of the recipes. Everyone tried their hand at family staples, experimental concoctions and new favorites – and there could only be one winner. Take a look below at of some of our winners (but try at your own risk).
Pope's Angry Cider (First Place)
1 oz orange juice
1 oz amaretto
Fill the rest of the glass with Angry Orchard hard cider – crisp apple flavor
Add a splash of Fireball whiskey
Serve in a cinnamon and sugar-rimmed glass
Giuseppe's Squash Lasagna (Second Place)
1 package oven-ready lasagna noodles
1.5 lbs squash-peeled, seeded, and cut into 1-inch cubes
1 lb mushrooms, sliced
salt and freshly ground pepper
olive oil
1 clove garlic
1 leek, chopped
1 cup whole milk
.33 lbs smoked provolone
.2 lbs Parmigiano Reggiano, grated
For the besciamella sauce:
3.75 oz butter
3.75 oz flour
32 fl. oz milk
2 teaspoons salt
1/2 teaspoon freshly grated nutmeg
Preheat the oven to 375 degrees F. Heat 2 tablespoons of oil in a large sauté pan. Slice the garlic and the mushrooms and add them to the pan, sprinkle with salt, and cook over medium heat until the mushrooms have reached a golden brown color.
Heat the oil in a heavy large skillet over medium-high heat. Add the chopped leek, followed by the squash cubes and toss to coat. Sprinkle with salt and pepper. Pour the milk into the skillet and then cover and simmer over medium heat until the squash is tender, stirring occasionally, about 20 minutes. Cool slightly and then transfer the mixture to a food processor. Blend until smooth. Add the Parmigiano and season the squash puree, to taste, with more salt and pepper. [Note: If you use oven-ready lasagne, you don't need to cook the lasagna noodles before putting them on the baking sheet, but the squash puree need to be very moist. If it looks dry to you, add some warm milk. In fact, that moisture will let the lasagna cook perfectly in the oven.  If you have doubts about all the moisture thing, cook the lasagna noodles before baking, following the instructions on the package.]
Now prepare the besciamella sauce. In a medium saucepan, heat butter until melted. Add flour and stir until smooth. Over medium heat, cook until light golden brown, about 6 to 7 minutes.
Meanwhile, heat milk in separate pan until just about to boil. Add milk to butter mixture 1 cup at a time, whisking continuously until very smooth and bring to a boil. Cook 30 seconds and remove from heat. Season with salt and nutmeg and set aside. Now you are ready to bake.
Lightly butter a 13 by 9 by 2-inch glass baking dish. Spread 3/4 cup of the sauce over the prepared baking dish. Arrange 3 lasagna noodles on the bottom of the pan. Spread 1/3 of the squash puree over the noodles. Spread some of the besciamella sauce. Sprinkle with some Parmigiano. Add a layer of mushrooms and then one of provolone . Drizzle 1/2 cup of sauce over the noodles. Repeat layering 3 more times. On top of the last layer, spread all the ingredients, mushrooms excluded.
Bake the lasagna for about 40 minutes, until the top is golden.
Pete's Italian Dip (Third Place)
¾ cup feta cheese
1 stick of unsalted butter
1-8oz package of cream cheese
2 minced cloves of garlic
½ cup toasted pine nuts
1 cup chopped sun-dried tomatoes (in olive oil)
1 cup fresh basil (retain several leaves for decoration)
1 minced shallot
salt & white pepper to taste
1 baguette of French bread
Let butter and cream cheese soften and drain the excess olive oil from the sun-dried tomatoes. Combine all ingredients in a food processor and blend till smooth.  Place in serving bowl and chill for at least an hour. Prior to serving let the dip soften and decorate with reserved basil leaves.  Slice the baguette into 1"slices. Lightly brush with olive oil, place on cookie sheet and lightly toast.  You may also use your favorite snack chip or pita bread.
Grumpy's Pumpkin Pie, by Scott LoSasso 
1 whole pumpkin
1 can evaporated milk
1 cup of sugar
2 eggs
1.5 teaspoons of pumpkin spice
Cut fresh pumpkin in half, clean outs seeds and pulp, place cut side down on a cookie sheet and bake at 350 degrees for 45 minutes to one hour. Scoop two cups of pumpkin and mix with all other ingredients.
Puree in a blender. Pour into pie crust and bake at 425 degrees for 12 minutes then reduce to 350 degrees and bake for 40 minutes. When you insert a knife and it comes out clean, the pie is done. Cool uncovered, serve with whip cream. Double this recipe for three pies.
Kristi's Slow Cooker Mac n' Cheese
½ pound elbow macaroni
4 cups shredded cheddar cheese, divided
1 can evaporated milk
1 ½ cups milk
2 eggs
1 teaspoon salt
½ teaspoon ground black pepper
Coat the inside of the slow cooker with cooking spray. In a large bowl, beat eggs with fresh and evaporated milk. Mix in uncooked macaroni and three cups of shredded cheese. Transfer to slow cooker, and sprinkle remaining cheese on top. Cook on low for five to six hours. Do not stir or remove lid while cooking.
Julia's Grape Jelly Meatballs
2 bottles of chili sauce (12 oz. each)
1 jar of Concord grape jelly (approx. 32 oz.)
Frozen beef meatballs (3 – 1lb bags)
Mix sauce together on the stove until it thickens and is slightly boiling. Cook meatballs according to instructions. Add cooked meatballs and sauce to crockpot and turn on low for a couple of hours.
Hope you enjoy all of these recipes as much as we did—Happy Thanksgiving!