5 video optimization tips you can start using TODAY
Published August 15, 2018 6:58 pm by Anthony Rizzo
Categories: Blog, Content marketing, Digital media strategy, Video, Web and UX trends
When it comes to fortifying your brand and selling products or services, video adds a huge amount of value to your marketing mix. But with 300 hours of video being uploaded just to YouTube every minute, there's a lot of competition out there. How can you consistently create impactful videos that break through the clutter and strengthen the bond with your audience?
Don't worry, we've got you covered. Whether you're an enterprise or a one-man operation, here are five tips and tools you can start using right now.
Tip #1 – Make your video content creation process repeatable
When developing your creative process for video making, do things that are repeatable and only raise the bar gradually.
Why it matters: The idea is to create a lot of content with regularity. When you know the drill, it's a lot easier to crank out quality videos quickly, and develop a schedule.
Tip #2 – Use VidIQ to boost traffic and engagement
Get more bang for your buck with organic reach. One cool tool that can help you maximize your organic reach via video is VidIQ, a Google Chrome extension.
Why it matters: Information like a video's title matters a lot. As a ta
ctic in YouTube SEO, using keywords applicable to your video's subject matter in your title will allow it to show up in users' recommended videos feed. Tools like VidIQ allow you to research and choose keywords that also coincide with what your audience is searching for.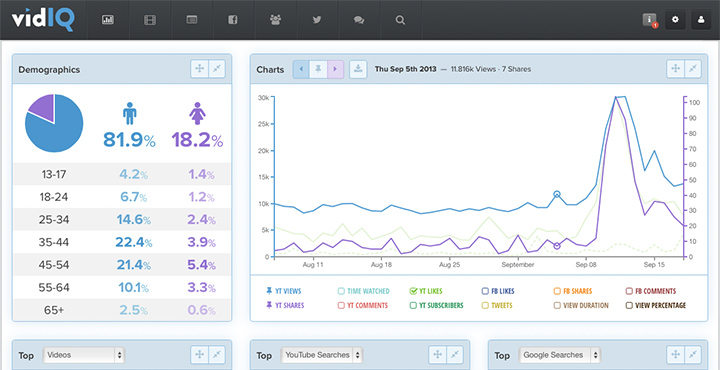 Tip #3 – Create a mailing list
To connect better with subscribers and keep track of them, create a mailing list.
Why it matters: This will allow you to have a more personalized and sustainable connection with your base. And they'll continue to come back to – and share – your content.
Tip #4 – Take Instagram TV (IGTV) for a test drive
Instagram launched IGTV concurrently with VidCon. It is a new channel giving a platform to long-form video pieces (up to one hour) and uses the vertical aspect ratio as a sort of new cinematic format.
Why it matters: IGTV aims to bridge the immediacy of IG stories with a video-centric environment like YouTube. With the vertical format, videos fill the boundaries of your screen without having to change the orientation, creating a more seamless and immersive experience for your audience.
Tip #5 – Take advantage of mobile video editing
Adobe's Project Rush is a brand-new, cross-platform software geared toward mobile video editing, taking many of the elements and techniques from their professional software Premiere.
Why it matters: With new video channels like IGTV that encourage us to raise the production values of online video, Project Rush gives us more options than ever to create and edit video on-the-go, eliminating the need for a full editing suite.
In today's landscape, creating a video or video series to market your products and services is a no-brainer. It's an effective way to connect and build a relationship with your consumers, communicate your company's core message, and share new products and services – and these tips and tools can help make it much, much easier!
Got any other video tips or tools to share with us? Let us know in the comment section below!